1/26/2020
Did you get to our Scott Ainslie concert last night? Did you see the instruments he brought with him and played for us? What amazing talent and what beautiful, heartwarming stories he brought with him.
I know many of you didn't know of Scott before I brought him in, but we sure scored when he offered to come and play with us. Thank you so much Scott!
By the way, if you'd like to hear more from him or buy one of his CDs, your can visit his website here.
---
1/5/2020
Check out our January newsletter to find out about the next two, awesome concerts. We continue to be thrilled and honored by the quality artists who come to Harmony Playground to share their gifts! Life is good.
---
11/17/2019
Our November concert with Jan Garrett and JD Martin gently rocked us to the core. Jacqueline joined them to add extra harmony to their lilting melodies. These fantastic concerts just keep coming!
---
10/13/2019
Announcing our last concert of the year and next year's first concert! Check out our newsletter to see who is coming. ☺
---
9/22/2019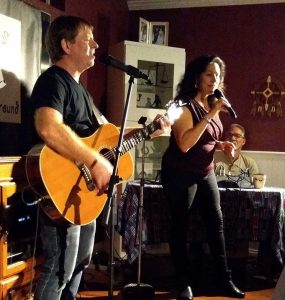 Thank you Christopher Dale for a night full of good music, hilarious stories, and fun times. It was great having him back with us again.
---
8/18/2019
Check out our summer newsletter to see who will take us out of 2019 by clicking here.
---
7/1/2019
Having Jana Stanfield in concert with us is always a treat! Last weekend's concert was no exception. We even got the kids to sing with us.
In addition to her regular, great entertainment, she shared about the work she has been doing with Together We Can Change the World. She helps host "Volun-tour" trips around the world to improve the well-being of disadvantaged children and women in Southeast Asia. Check them out and if you feel so moved, donate. Better yet, donate, and then sign up for one of Jana's trips.
---
6/10/2019
Our June newsletter is out! We are announcing our next two concerts, so check it out here.
---
5/19/2019
We booked Lee Coulter just before his new hit single (with Dixie Maxwell) hit number 1 on the iTunes charts in both Australia and New Zealand!
Last night concert did not disappoint! We were even treated to a 2nd set that included Dixie. Just a couple of weeks ago, their new "Ballad of the Sexes" album came out online. We were happy to have them with us just before they set off on their Australia tour.
Thank you Lee and Dixie!
---
4/24/2019
Check out our newsletter for concert information and news about the San Diego Earth Fair in Balboa Park April 28. Hope to see you out at the music stage this year where I'll be joined by Khevin Barns (our own Dr. Wilderness Magician), and Musicians Lee Coulter and Nathen Welden.
---
3/24/2019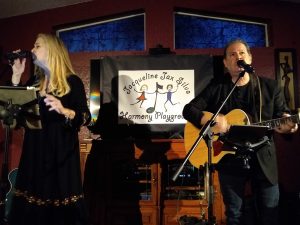 Eve Selis and Marc Twang gave another fantastic concert to our sell-out crowd. These two have such a great vibe! It was a treat to have them back with us!
---
3/3/2019
We've got THREE awesome concerts coming! Click here to check out our newsletter for details and to hear about other news as well.
---
2/17/2019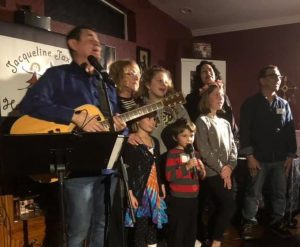 It was great to have Harold Payne back with us last month. He played some fun music and told us stories that had us in stitches. We talked, we laughed, we sang along.
And a Harold Payne concert wouldn't be a Harold Payne concert without him entertaining us with a song he made up on the spot, except that we got two of them! Wonder how someone can come up with a song with the phrases "Poway Pancake House," "Idiot Spaghetti," and "Fire and Ice"? Yeah, he did that.
---
2/2/2019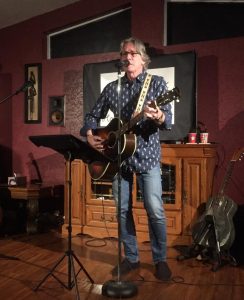 Our February newsletter is out and we're announcing three upcoming concerts! Check it out here.
---
11/18/2018
Well, it was ANOTHER awesome concert last night with the talented, esteemed songwriter, singer, musical coach, and producer Ed Tree. Thank you Ed for your warmly, thought-provoking music.
---
10/15/2018
We've got a terrific concert coming, our last for the year. Read all about it here in our October newsletter.
---
9/9/2018
What a great concert we had last night! Tom Prasada-Rao wowed us with his moving music and stories and the community of people who joined us were warm and friendly – not to mention great cooks. Here is a little sampling of the musical gift Tom brought to us.
---
8/13/2018
Check out our August newsletter to find out who our next two house concert artists will be as well as an update on our adopted Syrian refugee family.
---
7/29/2018
It could not have been a better night. Great people, great music, great food, and great fun! We WAY sold out tickets and had to open up overflow seating in the music room.
Both Jeff Berkley and Peter Bolland gave us some terrific tunes and fun-time stories.
Our superstar 50th District Candidate, Ammar Campa-Najjar stirred us with his compelling message and we were able to raise a nice chunk of change to help propel Ammar forward, but we still need a lot of help! Please consider contributing to his campaign.
Thank you to everyone who came out to make this such a terrific night!
---
7/1/2018
This month's newsletter marks the announcement of our very first benefit concert. Hope you will join us in supporting a bright future.
---
6/3/2018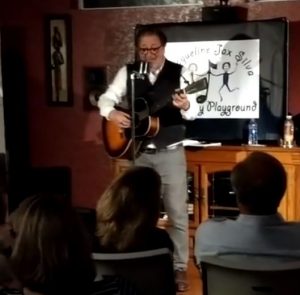 Well, of course it was a great concert. It was Gregory Page! We caught him just before he left the country on another tour. And glad we were! Another awesome performance by one of San Diego's own greats.
---
4/30/2018
We made it just in time to call this out April newsletter. Guess who's playing next? Click here to find out!
---
4/23/2018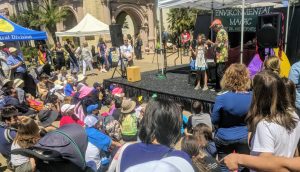 EarthFair turned out beautifully. We didn't get any pictures of ourselves – we were too busy! But check out the crowds that turned out for our own Dr. Wilderness, magician extraordinaire! It was a sunshiny day with lots of good food, new ideas, and great people connecting with other great people. Hope to see you there next year.
---
3/11/2018
Wow, WOW! StoweGood gave us a concert to remember. We literally laughed, cried, and laughed some more. What an honor to be able to host these beautiful superstars! Thank you Karen and Stowe. By the way, if you'd like to check out their podcast, you can do that here.
---
2/12/2018
Our February newsletter is out and we have lots of information to share. We have news about our upcoming events, Jacqueline's stage at EarthFair 2018, and our adopted Syrian refugee family. Check it out here.
---
1/28/2018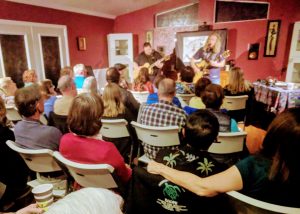 Oh man! Sold out the Berkley Hart concert three days beforehand. What an awesome time we had, what with these guys playing their songs and telling their jokes, not to downplay the awesome food people brought to the potluck. There was something for everyone from meatballs to gluten-free vegan tasty bits.
They played "My Name is Sam" towards the beginning of the first set. One woman had to go take off her make-up because it had run down her face. She wasn't the only one who shed a tear of three during that song. I often talk about how house concerts are so perfect for listening to acoustic music. There is a connection that is hard to match. Hope to see you at our March 10 concert with StoweGood. Thank you Berkley Hart!
---
1/1/2018
Our first newsletter of the year is out. Check out the two awesome duos we've got coming up. There is also news about our beautiful, adopted refugee family.
---
11/18/2017
Wow! What a treat is was to have the Shoeless Susies with us. Their unique "Gypsy Newgrass" music warmed our hearts.
Talk about sweet harmonies! So sorry for those of you who missed this awesome mother-daughter duo.
---
11/8/2017
Check out our newsletter. We've got two awesome concerts scheduled. Coming up next are the Shoeless Susies and Berkley Hart.
---
7/30/2017
Freebo gave us a concert filled with stories about time on the road with Bonnie Raitt, his family, and sang the song that won his mother's heart. Here is a short clip from that very moving song.
---
6/25/2017
Our June Newsletter is now available. Check it out! Not only do we have some awesome artists joining us, we found a way to support a lvery deserving and beautiful, local Syrian refugee family. Details inside.
---
5/7/2017
With a standing-ovation reception, Lee Coulter rocked us with his positively upbeat music and personality.
From the warm love songs to the hilarious "Pour It on the Floor" parody about mocking gratuitous waste, we were super entertained.
Thank you Lee!
---
4/23/2017
Once again, Jacqueline had the pleasure of hosting San Diego EarthFair's Magic Stage in Balboa Park. With her on stage was Khevin Barnes – Dr. Wilderness – himself as well as local music talents Jeff Bertino and Mike Stubblefield.
We drew an awesome crowd.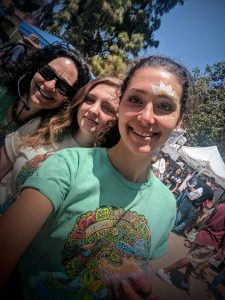 Jacqueline is pictured here with her niece, Heather, who ran the children's stage with her BFF Lexi.
The weather was perfect, the food was healthy and delicious, and we all learned some things about how to take better care of the earth. It was a great day!
---
3/12/2017
Just – wow!
Veronica May stirred us with her personal and very courageous journey last night. She shared some of the heart-moving music on her soon-to-be-released CD. What a terrific concert! Now, we wait patiently for her CD release in May.
Thank you Veronica!
---
3/5/2017
Three exciting events are coming! You can read all about them in this month's newsletter. Hope to see you shortly at our Veronica May concert.
---
1/29/2017
We had such a great time with Amy Steinberg last night. As you walked us through the stories of her life and sang her heart out for us, we were humored and moved. It was an exhilarating evening full of good people, food, and music. Thank you Amy!
---
1/5/2017
The January newsletter is out. There is all kinds of news including the upcoming concerts AND all about my new EP. You can read it here.
---
1/4/2017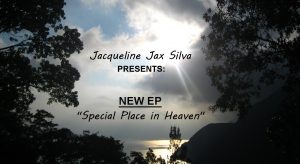 It's out!
I'm thrilled to announce that after several months of work, my new digital EP  Special Place in Heaven is now available!
You can order the songs by clicking to the right on this site. It contains these 5 songs:
It's Been a Long Time (written with Tom Prasada-Rao)
Far, Far Away
I'm Not Saying Goodbye
Special Place in Heaven
Pace of Love
Enjoy!
---
8/20/2016
The August newsletter is out! You can read it here. Good times ahead – Amy Steinberg's coming to town!
---
7/31/2016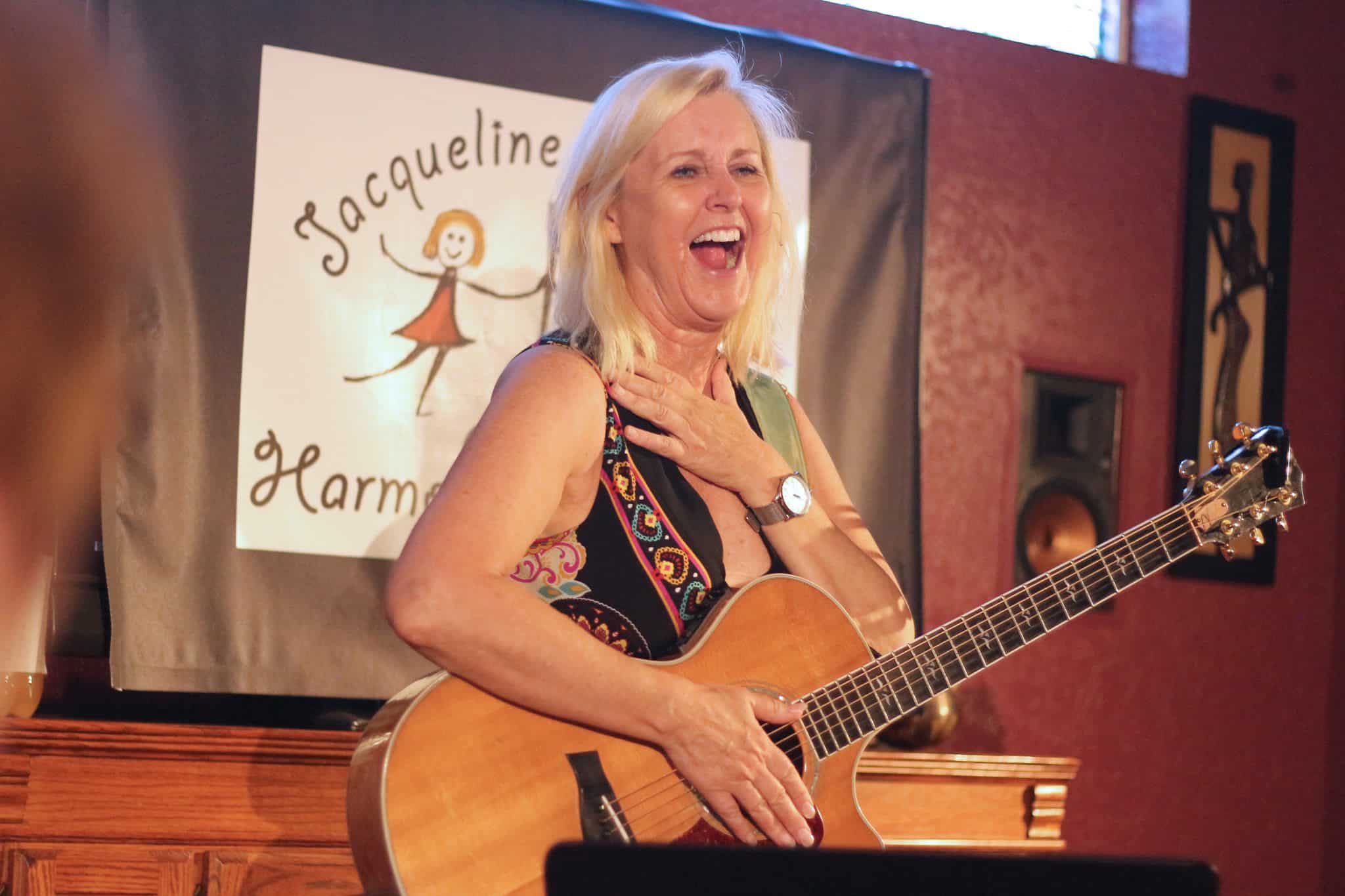 OMG! What a fantastic time with had with Jana Stanfield last night! I can't remember when I've laughed so hard and so much. Thank you Jana!
---
6/29/2016
The June newsletter was just released. We're announcing two concerts with two awesome women performers. Check it out here.
---
6/16/2016

Jacqueline is back in the studio recording five new songs, this time at Berkley Sound in San Diego. She's got the backup instrumental tracks recorded. Next will be some lead vocals, and then finally, the backup-vocals. Look for more recording news in about a year. There is no CD title yet and these things take a while, but the songs are sounding really good!
---
6/5/2016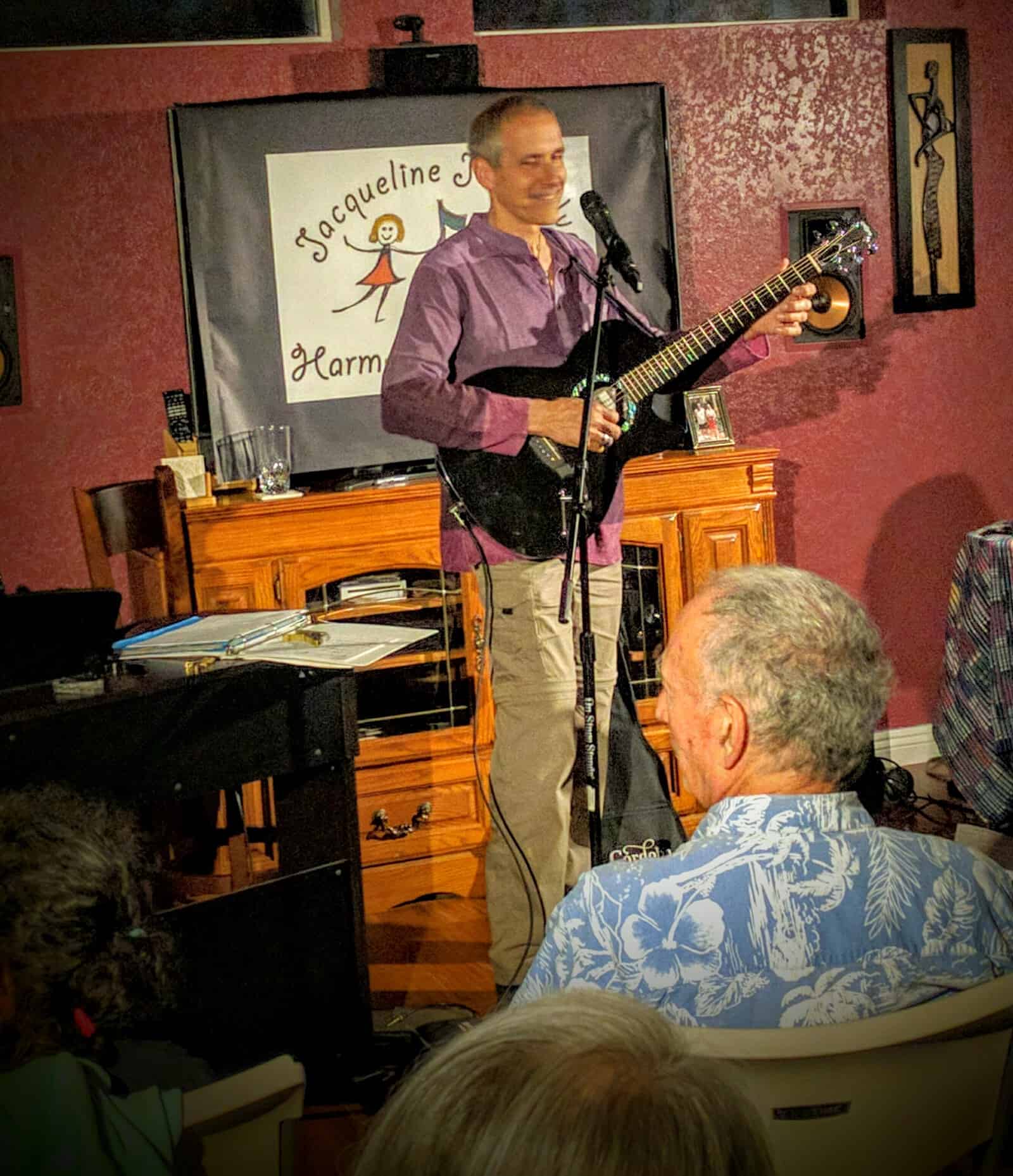 Thank you David Roth for your wonderful voice, intricate guitar parts, and especially for your heartwarming stories. We enjoyed your "encourgement" and the people you brought to life for us including your mother, Gloria, and MaryJo and Carol.
If you missed out on getting one of those cool "Label Jars, Not People" shirts (proceeds benefit Abilities Venti, a 501c3 non profit in Florida that is completely run by people with different abilities, you can order one here. To order David's music, click here.
---
 5/18/2016
The May Harmony Playground Newsletter is out. David Roth is coming plus I announce both our July and September concerts. Have a look!
---
5/8/2016

What an awesome time we had with Christopher Dale at our concert last night It was a full house, where we filled our tummies and our spirits with delectable treats and fun-filled harmonies. Thank you Christopher and thanks also to Megan Biermann for adding beautiful harmonies to Chris' music.
---
4/18/2016

The magic stage at San Diego #EarthFair2016 was smokin' good fun. We announced the parade at its opening, hosted some magic, interviewed several exhibitors and sang our hearts out! If you weren't one of the 35,000 people who enjoyed the day with us, that's okay. We'll be back next year.
---
4/11/2016
Hey everyone – check out our April newsletter. We've got so much great music coming!
---
3/13/2016
Michael McNevin's concert was (of course) terrific! Loads of fun and funny stories.  He did my favorite song – Mr. Mayes – the best I've ever heard it complete with the story about Dad's haircuts and the antics he survived with his brothers. Good times!
---
 2/17/2016
Check out our February newsletter.  We have pictures, our calendar, and a couple of other fun items.
---
1/17/2016

Last night's Gregory Page was a total sellout and a totally great time. This turned out to be his "bon voyage" concert, as he left to go on tour today.  Thank you Gregory for an outstanding performance.
---
1/3/2016
Check out our January newsletter here. We've got Gregory Page playing January 16 and more!
---
10/25/2015
Last night's Tom Prasada-Rao concert was over-the-moon wonderful. Jeff Berkley was there keeping the beat and Michael Lille brought a trio of guitars. Did I mention Tom's new sitar guitar? Add a surprise duet with Renee Azzari and wow! And all best part was all the really wonderful people who showed up to enjoy the music and each other. What a great time!
---
9/27/2015
Check out our September newsletter.  We are excited to announce 2 awesome concerts with 3 awesome artists.  Click here to read the latest from Harmony Playground.
---
7/12/2015

Last night's concert was… funny, moving, inspiring and a heck of a lot of fun.  Thank you so much Jana Stanfield and Nathen Aswell for bringing your hilarious charm and sweet spirits to our home.
---
7/5/2015
See what's in store at Harmony Playground this month.  You will not want to miss our next concert.  Click here to read this month's newsletter.
---
6/22/2015

Our Dave Howard birthday concert was great fun! Not only did we enjoy with great music and the celebration, we brought in some new window coverings to make the concert room prettier and cool it down.  Thank you Dave for sharing your music and stories with us.
---
 5/27/2015
Check out our May newsletter. We've got some exciting concerts coming – wait until you see! Click here to read it.
---
5/10/2015
Tom Kimmel's songwriting workshop and concert were fantastic – just can't say enough about wonderful they were!  We got a special, bonus surprise when Michael Lille showed up and played the entire concert with Tom.  We're working on a date to bring Michael back in for a solo concert.  Check out my one of our favorite Tom Kimmel songs – One Heart.
---
 4/12/2015
We are very excited to publish our April newsletter.  We've announced a couple of special events including a songwriter's workshop with none other than TOM KIMMEL.  Click here to read the newsletter.\
---
3/16/2015
Nathan Welden is a local San Diego singer and songwriter whose concert March 14 absolutely charmed us. We even got to meet his wife and sweet baby girl.
If you didn't get enough of him, you can go to NathanWelden.com to find him playing at restaurants all over town. Thank you Nathan!!
---
 2/28/2015
Check out our latest newsletter for exciting news about upcoming events.
---
2/2/2015
We sold out our January 31 concert with Berkley Hart.  What a terrific night we had! Thank you Jeff Berkley and Calman Hart for an entertaining evening that delivered on its promise. And did you notice our new Harmony Playground banner? It's hanging behind Calmen in the picture here.
---
 12/21/2014
My December newsletter is ready! Click here to check it out.
---
11/10/2014
Thank you Eve Selis and Marc Twang for a fabulous concert last weekend.  What a treat to see you in such a wonderfully intimate setting.
---
 11/1/2014
I am pleased to share that my song "Hang Up the Phone" was selected for distribution Nov. 12 through the emPOWER Music and Arts a non-profit, 501c3 community.  Also sharing music in November through emPOWER are Faith Rivera, Terry Wilder, Nathan Aswell and Harold Payne, artists you may remember from previous Harmony Playground concerts.
EmPOWER Music and Arts is dedicated to creating positive global change through music, writing, and the spoken word.  \Every day during November, they give away one free song download by a positive music artist.  Go to emPowerMA.com starting November 1 to get started.
---
10/30/2014
My October Newsletter is out!  Click here to see what's new.
---
9/22/2014
Thank you Cahill and Delene for delivering a terrific concert.  They shared several new songs and Delene treated us to some of them on her dulcimer.  They also brought in "bliss" lights to get a festive, celebratory mood.  A great time was had by all.
---
8/24/2014
My August newsletter is ready.  Click here to have a look.
---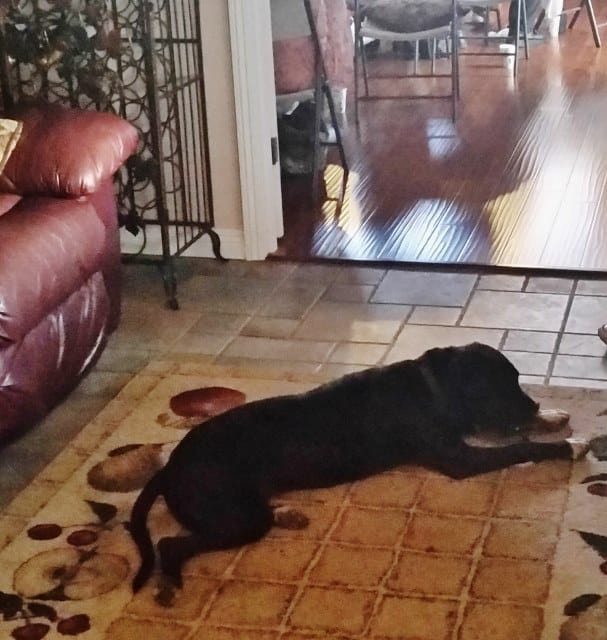 7/21/2014
What a terrific time we had at our Karl Anthony concert.  He treated us to some old favorite tunes, brand new songs, and many interesting and inspiring  personal stories about his travels and his family. He brought some new folks to Harmony Playground as well.  Even our lovable pooch, Becky, stuck around to enjoy the show, relaxing and groovin' with the crowd.  What a terrific time we all had!
---
6/16/2014
Did you make it to our Peter Bolland concert we hosted?  It was beautifully pleasing acoustically, visually and with the kind of "reaching into the heart" that is unique to the intimate venue you can find in house concerts like Harmony Playground. We ended the evening with Peter and Jacqueline singing a gentle, almost reverent version of Leonard Cohen's Hallelujah.
There is nothing quite like hearing artists up-close and raw, seeing them look you in the eye and hearing their story. Not only was the concert warm and wonderful, but seeds of new friendships were already taking root.  If you haven't yet been to a house concert, give it a whirl.  We'd love it to be with us.  You might be surprised how wonderful the experience turns out to be.
---
5/22/2014
My May newsletter is out!  Click here to view it.
---
3/30/2014
Happy Birthday to Al!  Guess what he got for his birthday??
---
3/17/2014
Woo-hoo!  Just got the word my song "Ocean in Motion" got picked up on Heart Wind Music.  Both the audio and sheet music can be downloaded.
---
3/16/2014
The Faith Rivera concert was awesome!  We had our biggest audience yet.  We loved her stories and her swingin' music – she had us on our feet dancing around the room.  What a great time!
---
3/9/2014
Thank you VISION: A Center For Spiritual Living for inviting me to be their featured vocalist today.  It was a wonderful pleasure to come together with you and share my new song "Pace of Love."
---
2/23/2014
The Harold Payne concert was hilarious, great fun.  Not only did we laugh like crazy at his wit and signature improvised, on-the-spot song creation, he shared some really moving songs as well.
---
2/17/2014
My February newsletter is out!  Click here to see what's new.
---
1/26/2014 
Did you miss our January house concert with Teri Wilder?  It was a wonderfully good time!
Not only did we enjoy a delicious smorgasbord of wonderful dishes and kind-hearted guests, Teri treated us to such a lively and engaging concert, we couldn't keep still or quiet.  We enjoyed clapping and singing along with her as her music warmed our hearts. 
As an added surprise, she gave us a demonstration of her gong and took us through a mini meditation.
You had to be there to appreciate how special this was.  The concert was warm, intimate, and fun.
---
1/22/14
My newsletter is out!  Click here to have a look.
---
1/12/14
I'm off to the 2014 Empower Music and Arts Posi Mustic Festival in Florida to collaborate with other artists, learn, sing my heart out and have a fantastic time!  I'll be back just in time the the upcoming house concert.  I hope to come back with a couple of new, inspirational songs.  ♫  Hope to see you at the Posi's or at our house concert January 25.
---
11/11/2013
---

1/11/2013
Come and join me at the San Diego Conscious Music Fest this Saturday, November 9 where I will be singing with my Luminescence sisters.  This show is going to ROCK!  Get more information and buy tickets at  http://www.consciousmusicsd.com/
---
10/31/2013
EXCITING NEWS!
I get to kick it off Empower Music & Arts"one free download a day during November" with my song "Ocean in Motion." Each day, you can get a new positive song by a different artist. Visit this Friday to get mine at www.EmpowerMA.com. Woo hoo!  This song has also been selected to be included on a compilation CD for The Gigglebox Project.  This is a totally cool organization dedicated to promoting physical healing and the emotional well-being of kids in hospitals by creating and donating "Giggleboxes" filled with toys and things to make kids laugh.  Check them out at Giggleboxes.org.
---
4/21/2013
What a blast running the Magic Stage at San Diego EarthFair!  Got to MC the Children's Parade, host Emmy-award winning magician "Dr. Wilderness" and provide the music.  Invited Aaron Kimble (local artist) up for a few tunes and also interviewed several people with helpful tips on what one person can do toward a cleaner, healthier, more prosperous future for this planet and human beings.
Great time!
---
2/12/2013
See what my son Geoff did for me?  It's "Just Be Happy" from my "Living All the Way" CD.  He's the bomb!
I've been laying low the last few weeks making plans and doing a little writing.  I'm going to lay rough tracks down for 2 new songs today, songs that I'm really enjoying.  I'll also be reaching out to a new source for live performance.  Send me love!
---
1/18/2013
1/13/2013
Had a blast today singing at The Unity Center in San Diego!  Thanks to everyone who came out, bought my CD, loved my music and/or shared the morning with me.  Good times!